Rees Cup Series Four-Ball
Saturday, April 25th, 2020 7:30AM TEE TIMES
FORMAT
Two Player Better Ball- All players will play their own ball for the entire round. Teams will pick the best NET score for each hole.
TEES
Men 60 and under will play the WHITE TEES
Men 60 and over MAY play the GOLD TEES
Women 60 and under will play the BURGUNDY TEES
Women 60 and over MAY play the PINK TEES
CONDITION OF PLAY
The ball may be rolled in the fairway. All players must putt out on every hole. Proceed under Rule 3-3 for any doubt to a procedure and play two balls for that hole. Upon completion of play you must inform the committee of the situation and the committee will then impose a ruling. You must announce your intention to play two balls prior to proceeding.
Competitors may lift, rake, and place the ball in ALL bunkers within one club length of the ball's original position.
PLEASE PLAY READY GOLF WITHOUT DUE DELAY
Try to complete every hole. We will adjust scores according to ESC upon completion of your round. Please do not post your score. The Professional staff will post all scores for this competition.
After play is completed please turn your scorecard in the shop
HAVE A GREAT GOLFING DAY!
Tee Times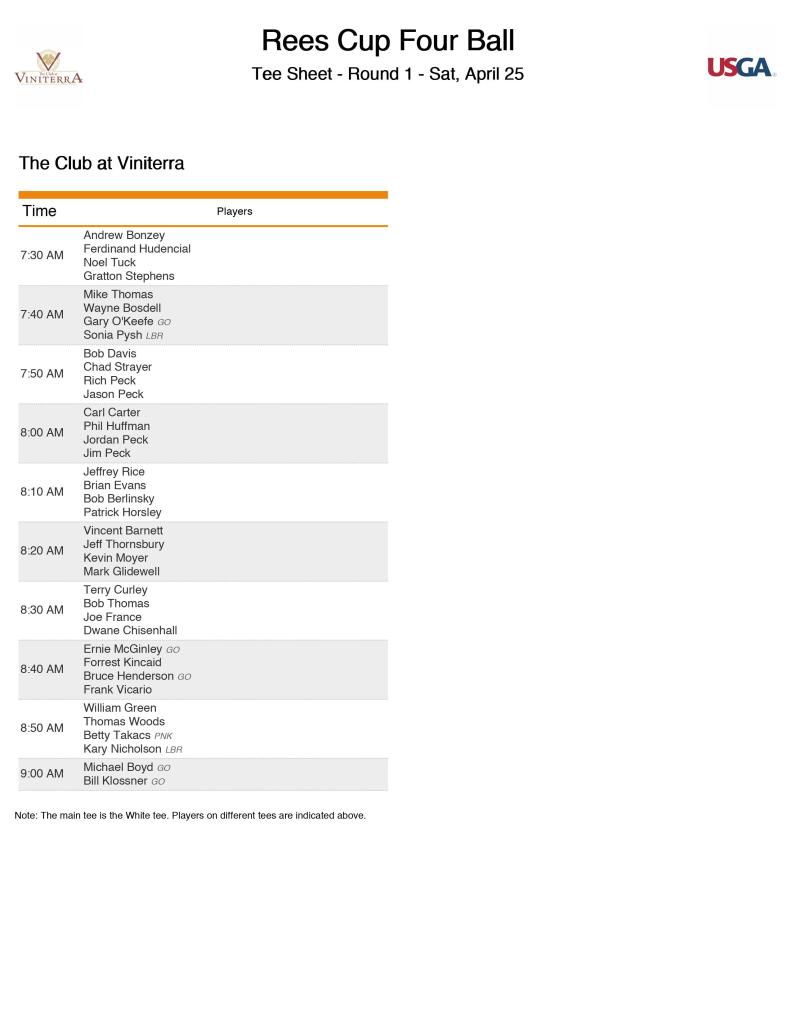 Results
1st Flight
Rank
Team
Net
1st
Jason Peck
Rich Peck
67
2nd
Bob Davis
Chad Strayer
68
3rd
Jim Peck
Jordan Peck
69
4th
Jeff Thornsbury
Vince Barnett
72
5th
Mark Glidewell
Kevin Moyer
73
6th
Carl Carter
Phil Huffman
75
7th
Andrew Bonzey
Ferdinand Hudencial
75
2nd Flight
Rank
Team
Net
1st
Bob Thomas
Terry Curley
67
2nd
Bob Berlinsky
Patrick Horsley
68
3rd
Bruce Henderson
Frank Vicario
68
4th
Ernie McGinley
Forrest Kincaid
71
5th
Noel Tuck
Gratton Stephens
71
3rd Flight
Rank
Team
Net
1st
Gary O'Keefe
Sonia Pysh
65
2nd
Jeff Rice
Brian Evans
70
3rd
Betty Takacs
Kary Nicholson
70
4th
Thomas Woods
William Green
73
5th
Bill Klossner
Mike Boyd
74
6th
Mike Thomas
Wayne Bosdell
77